ON THIS PAGE
ALL ABOUT JED CAMPUS
What is JED Campus?

JED Campus is a signature program of The Jed Foundation (JED) designed to guide schools through a collaborative process of comprehensive systems, program and policy development with customized support to build upon existing student mental health, substance use and suicide prevention efforts.

The Healthy Minds Survey Data

The Healthy Minds Study provides a detailed picture of mental health and related issues in college student populations. Schools use their data for the following purposes: to identify needs and priorities; benchmark against peer institutions; evaluate programs and policies; plan for services and programs; and advocate for resources. READ THE REPORT

What is the JED Campus Comprehensive Approach?

JED Campus believes in a comprehensive, public health approach to promoting emotional well-being and preventing suicide and serious substance misuse. This model is used to assess efforts currently made on campus, identifying existing strengths and areas for improvement.
JED built upon its comprehensive approach in 2017 by developing the Equity in Mental Health Framework, in partnership with The Steve Fund, which provides ten recommendations and implementation strategies to help colleges and universities better support the mental health of students of color.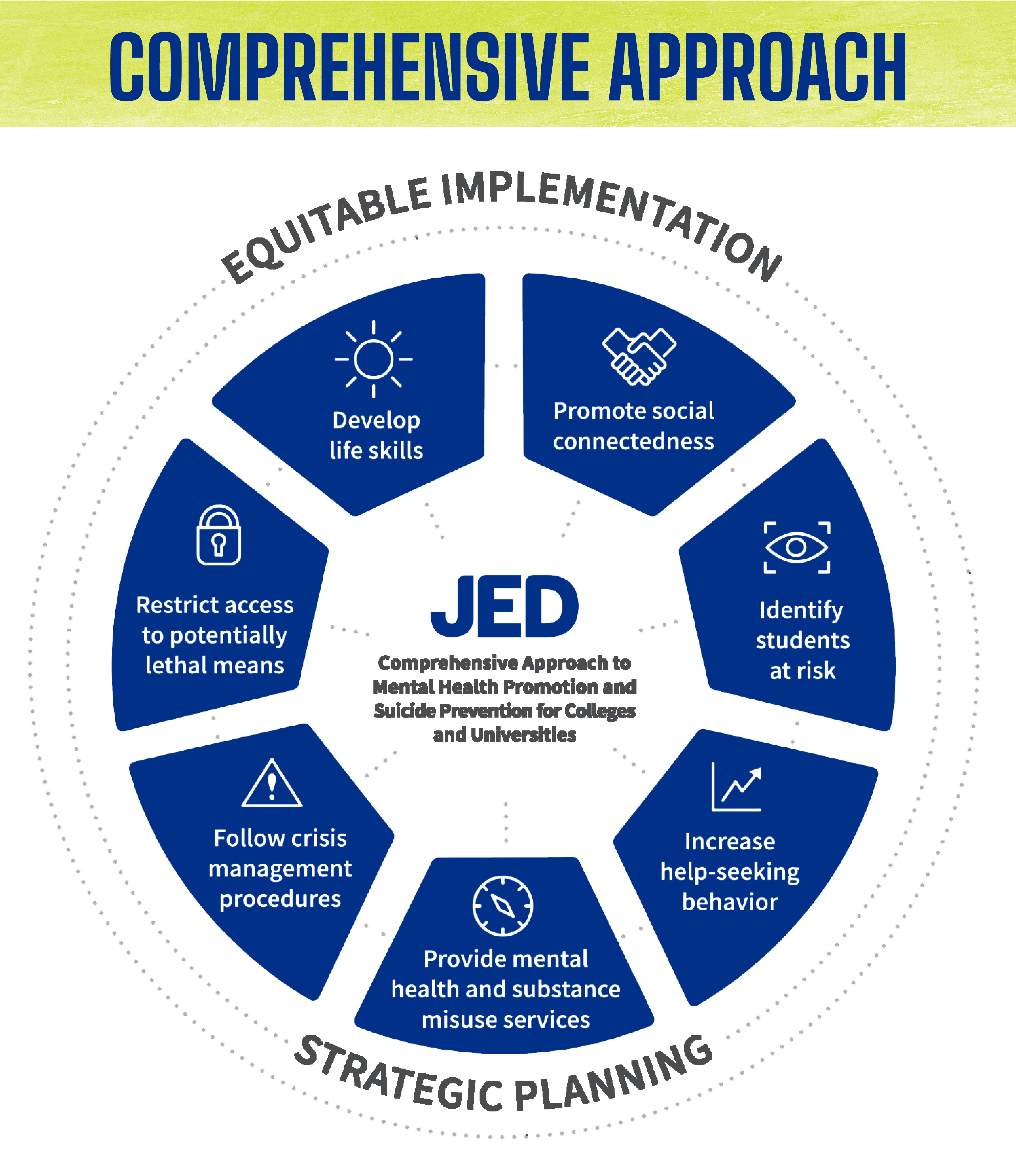 SRJC ADVISORY COUNCIL
---
MORE RESOURCES
Want to be involved in JED Campus work at SRJC?

Faculty, staff, and students can be involved in the SRJC Campus. Contact Jeane Erlenborn  (jerlenborn@santarosa.edu) for more information

JED Campus Student Engagement Page

Are you a student interested in mental health and suicide prevention?

Are you interested in learning more about JED's mission? Are you looking for ways to be a leader as it relates to student mental health? JED has many ways for you to stay connected through our resources and educate yourself and those around you. 

Need to Talk to a Therapist?

Call 707.527.4445 or email studenthealthservices@santarosa.edu to make an appointment.

| | |
| --- | --- |
| | The 988 Suicide & Crisis Lifeline is a national network of local crisis centers that provides free and confidential emotional support to people in suicidal crisis or emotional distress 24 hours a day, 7 days a week in the United States. |
| | 988 Suicide & Crisis Lifeline es una red nacional de centros de crisis locales que brinda apoyo emocional gratuito y confidencial a personas en crisis suicida o angustia emocional las 24 horas del día, los 7 días de la semana en los Estados Unidos. |