SHS Health Promotion
Student Health Services works towards fostering a healthy SRJC community through a variety of health promotion efforts.
We recognize that students will be more successful when healthy in body, mind and spirit, and when connected to a healthy campus community.
---
3 Ways to Access Health Promotion Information
(A) INFORMATIONAL BROCHURES:
Stop by any of our SHS locations to pick up health information brochures and community provider referral sheets.
(B) EVENTS & WORKSHOPS:
Come to our events and interactive workshops – visit the Current Events page for the most updated schedule.
(C) ONLINE RESOURCES
Check out our variety of online activities on platforms such as trainings, an online health magazine, and anonymous mental health screenings.
Canvas Course: WELLNESS RESOURCE

Resource for SRJC students to find on-campus, off-campus, and online resources to support their time at SRJC. (Screenshots)

Mind Wise allows students to complete an anonymous online screening for Depression, Anxiety, Alcohol, Eating Disorders or PTSD to see if they would benefit from professional consultation.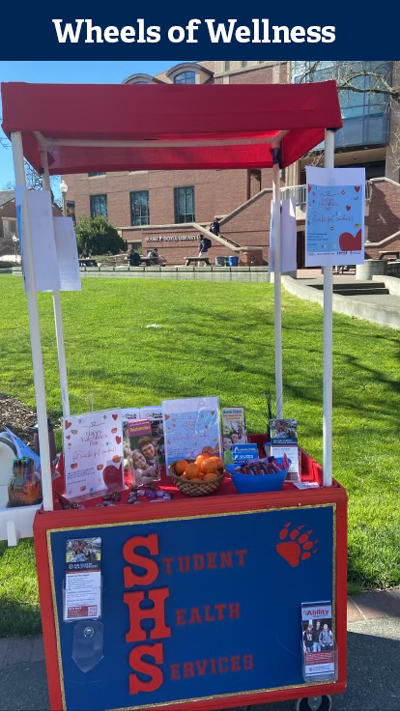 ---
SRJC Student Health PEERS
Student Health PEERS is a program within Student Health Services that utilizes the authentic and creative voices of students to increase the conversation about mental health at SRJC. By raising awareness and reducing stigma around mental health, we foster an accepting environment that promotes student wellness and success. The Student Health PEERS plan events, educate students about mental wellness, and collaborate with other student groups on campus. Follow the Student Health PEERS on Facebook and Instagram to keep up with all of our news & events!
Student Health PEERS is funded through the Mental Health Services Act, Prevention and Early Intervention programs.
For additional information, please contact Jeane Erlenborn: jerlenborn@santarosa.edu
---
SRJC Mental Health Training Numbers
MENTAL HEALTH FIRST AID
4854 Staff & Students Trained
The Mental Health First Aid program teaches how to identify, understand and respond to signs of mental illnesses and substance use disorders. This in-depth training provides skills needed to reach out and provide initial help and support to anyone who may be developing a mental health or substance use problem or experiencing a crisis.
Question, Persuade, Refer (QPR)
115 Staff & Students Trained
People trained in QPR learn how to recognize the warning signs of a suicide crisis and how to question, persuade, and refer someone to help. Each year thousands of Americans, like you, are saying "Yes" to saving the life of a friend, colleague, sibling, or neighbor.
---
JED Campus
JED Campus is a signature program of The Jed Foundation (JED) designed to guide schools through a collaborative process of comprehensive systems, program and policy development with customized support to build upon existing student mental health, substance use and suicide prevention efforts.
For additional information, please contact Jeane Erlenborn: jerlenborn@santarosa.edu
---
Healthy and Safe Environment
We work with staff, faculty, and student groups on campus to promote a healthy environment where all students can thrive and feel supported. Here are some helpful links: