Student Health Services Events & Workshops
---
Free Flu Shots On Campus !
Winter break is coming up – 
share the love & food with family, not the flu!
The flu vaccines are donated by Safeway and are free to students, staff, and community. First chance is Wednesday, November 15th from 1:30 PM – 5:00 PM in Bertolini Student Activities Center. Future dates include Wednesday, November 29th from 10:00 AM – 3:00 PM in Bertolini, and Thursday, November 30th, 10:00 AM – 3:00 PM on Petaluma campus Room 609.
---
Support for Those Impacted by the Wildfires
This group is located in Doyle Library, Rm. 4244 (First Floor) 
Wednesdays 3:00 PM - 4:00 PM Beginning Nov. 1st
Facilitated by Whitney Keilman and Elise Koepke
This group is geared for students, but all are welcome. It will provide a place for those impacted by the wildfires to talk about feelings and receive support from one another.
All Student Psychological Services (SPS) groups are free with unlimited sessions. Groups will continue as long as there is interest.
If you are interested in attending a group, simply come to the location. If after early November, please call 524-1595 to see if they are still running.
For more information call Student Psychological Services. Santa Rosa Campus: Plover Hall: (707) 524-1595
---
Enrollment Counselors on the Santa Rosa Campus Monday through Friday, NOW!!
Student Health Services, Race Building call (707)527-4445 for an appointment.
Drop-Ins provided as available.
Applications ongoing all year long for CalFresh (Free Food!) and Medi-Cal.
In Petaluma, Call Building, Nov 29th and Dec 13th, 9:30-12:30, or call (707)778-3919 for an appointment.
Affordable Care Act (Covered California) OPEN ENROLLMENT is available from November 1st, 2017 through January 31st, 2018.
---
Student Health 101
Read the Current Issue of SRJC's Student Health 101 Online Magazine
Student Health Services offers SRJC Students FREE access to an online magazine that promotes better health for college students. For the current SRJC issue, visit Student Health 101. This monthly, interactive online magazine covers topics such as nutrition and exercise, reducing stress, colds & flu.
New to college? The College Survival Guide issue shares some important information about student services at SRJC and includes great articles about time management, what instructors want from you, and tips on how to fit in healthy eating and workouts while being a busy college student.
Get updates about campus health and wellness by text: 
Text: "SANTAROSA" to: 40691
---
Every Wednesday
See times & Locations Below
Mindfulness reduces and alleviates stress through improving emotion regulation, leading to a better mood and better ability to handle stress. SRJC students can now benefit from joining mindfulness groups on the Santa Rosa and Petaluma campuses! 
The Santa Rosa Mindful Meet-ups will be held every Wednesday at 3:00 PM in Mi Casa (Garcia Hall, 860). Our first meeting will explore meditation as a practical means for calming yourself, for letting go of your biases and seeing what is, openly and clearly. 
In Petaluma, join us every Wednesday at 11:30 AM in the Intercultural Center (Jacobs Hall, 116) to explore ways to reduce stress and build community! 
---
FREE FOOD ON CAMPUS!
Distribution Weekly in Santa Rosa and Petaluma
See the Student Resources web page for days and times.
Healthy eating contributes to wellness and success in school. Student Health Services partners with the Redwood Empire food bank to distribute fruit and vegetables.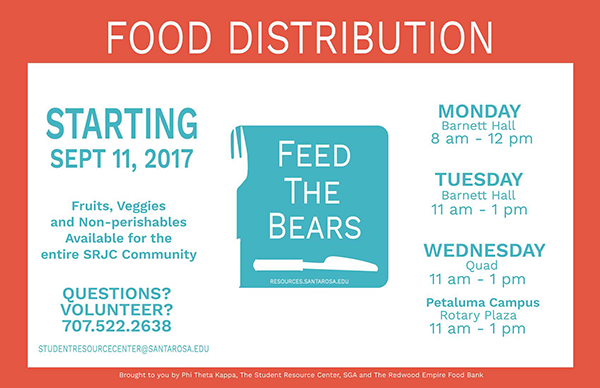 ---
PEERS Workshop
Thursday December 7th 4:00 PM - 6:00 P.M.
Bertolini, Student Activities Center
Wellness Wisdom for Winter: Sleep, Stress, and Student Success.
Come join the PEERS to learn hints and habits to help you rest, relax, and recharge
---
Support Groups Coming Later This Semester
Fall 2017
---
Understanding Self & Others
Facilitated by Jennifer Coleman and Genevieve Heyne
This group will help members learn more about their relationship patterns, how to become more effective in interacting with others, and how to build deeper and more meaningful connections. Join us to practice coping more effectively with interpersonal challenges in a safe, supportive environment.
Me, My Body, & I: A Body Positivity Skills Group
Facilitated by Diana Hu and Jeremy Kozak
The world tells us a lot about how we should look. It's time to stop listening. Join us to improve your relationship with your body. We'll be practicing body-acceptance and self-compassion as we build real skills you can use every day. Live your life in the body you have!
Fidget to Focus: Organize Your Life
Facilitated by Whitney Keilman and Elise Koepke
This group is dedicated to anyone working through difficulties maintaining focus and managing their time, including those with ADD/ADHD. Join us to learn new coping skills for the classroom and organizational skills for your life. Group activities will include mindfulness/meditation, use of fidget toys, education on ADHD and time management, goal planning, and more!
---
Come support and be supported by others going through similar struggles while building new skills to overcome difficulties.
---
All groups are free with unlimited sessions for SRJC students. Groups start when enough students have signed-up, unless noted above.
If you are interested in attending these groups, call SPS at 524-1595 or stop by Plover rm 559. All groups are supervised by Bert Epstein, Psy.D.