Student Health PEERS Calendar of Events - Fall 2023
September October November December
---
October 2023 Events
---
Flu Shot Clinics - October - Free / Walk-In
Wednesday, October 4
Time: 10:00AM - 2:00PM
Location: 1st Floor Race Building - Dental Waiting Area
Wednesday, October 11
Time: 10:00AM - 2:00PM
Location: Polly O'Meara Doyle Hall (Student Housing) - Kaiser Permanente Great Room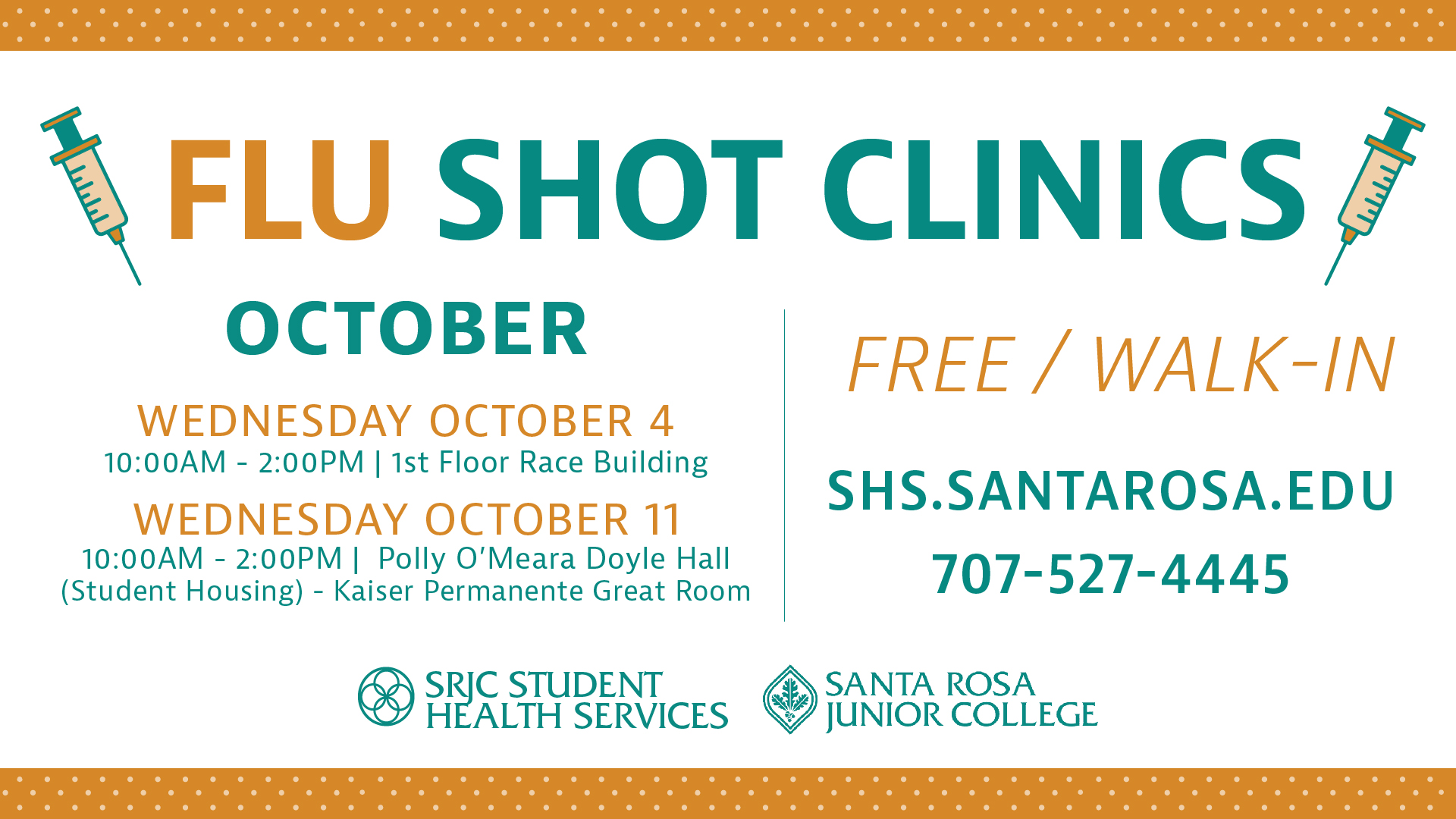 ---
Indigenous People's Day - Monday, October 9
Time: 11:00AM - 3:00PM
Location: Burbank Outdoor Stage Area, Santa Rosa Campus
Native Speakers, Vendors, Food, Drumming and Dancing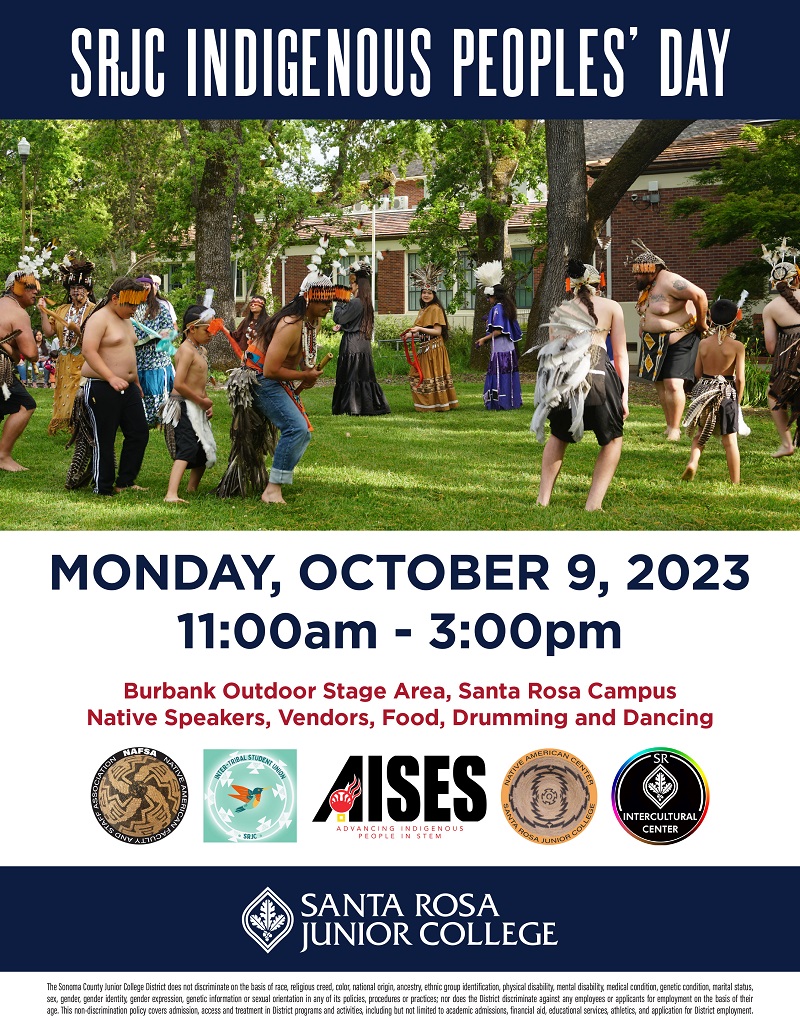 ---
Anxiety Workshop - Tuesday, October 10
Time: 12:15PM - 1:00PM
Location: Room 141, Doyle Library, Santa Rosa Campus
---
---
September 2023 Events
---
Students for Recovery Weekly Meeting - Every Wednesday
Time: 2:00PM
Location: Doyle Library, 1st Floor, Room 141, Santa Rosa Campus
All Students are welcome to join Students For Recovery's weekly meeting every Wednesday at 2:00PM. Follow Students For Recovery on Instagram or Facebook . For more information, email: srjcstudents4recovery@gmail.com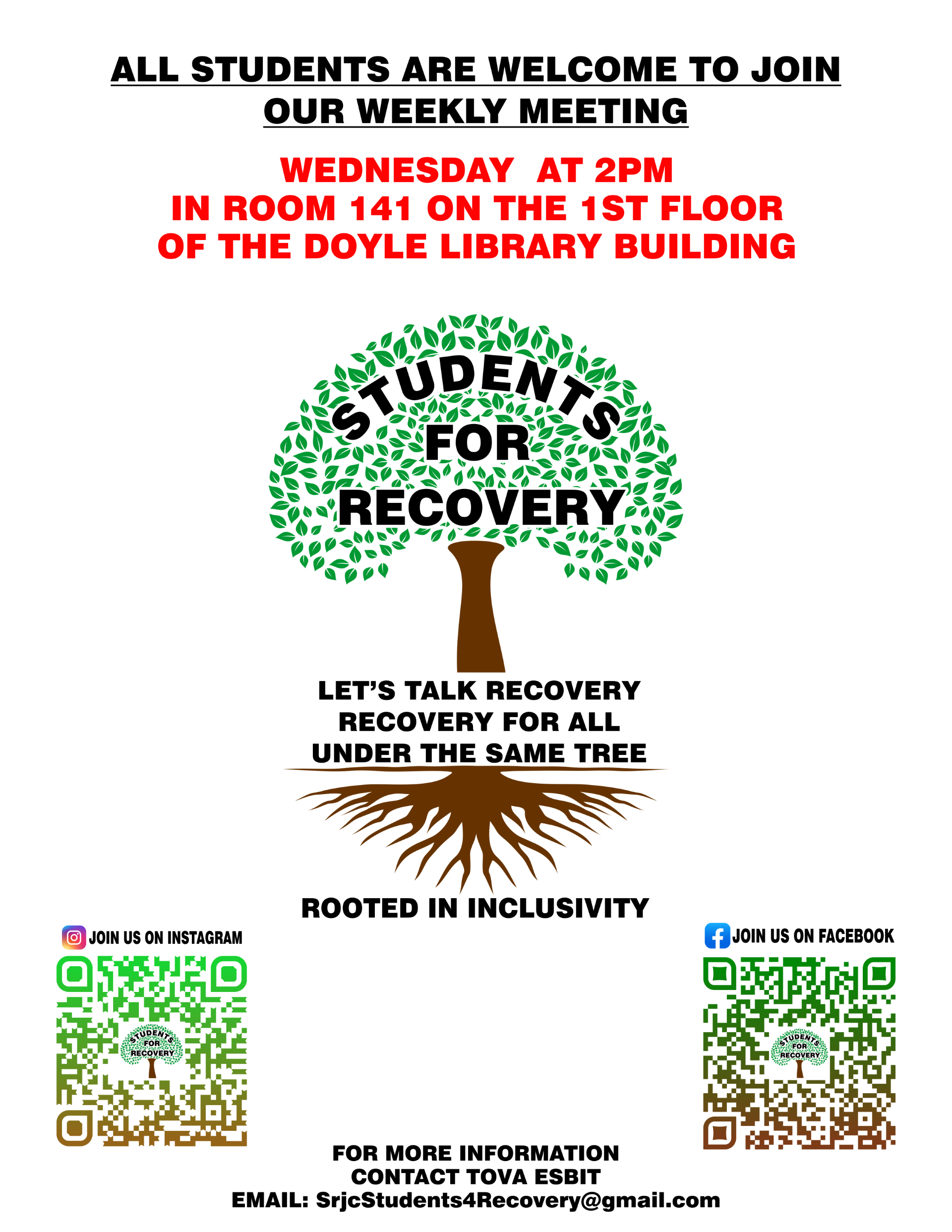 ---
Roseland Welcome Day - Saturday, September 16
Time: 9:30AM - 1:00PM
Location: Roseland Campus
Workshops, Food, Entertainment, Resources!
---
September Flu Shot Clinic -  Wednesday, September 27 - Free / Walk-In
Time: 10:00AM  - 2:00PM
Location: 1st Floor Race Building - Dental Waiting Area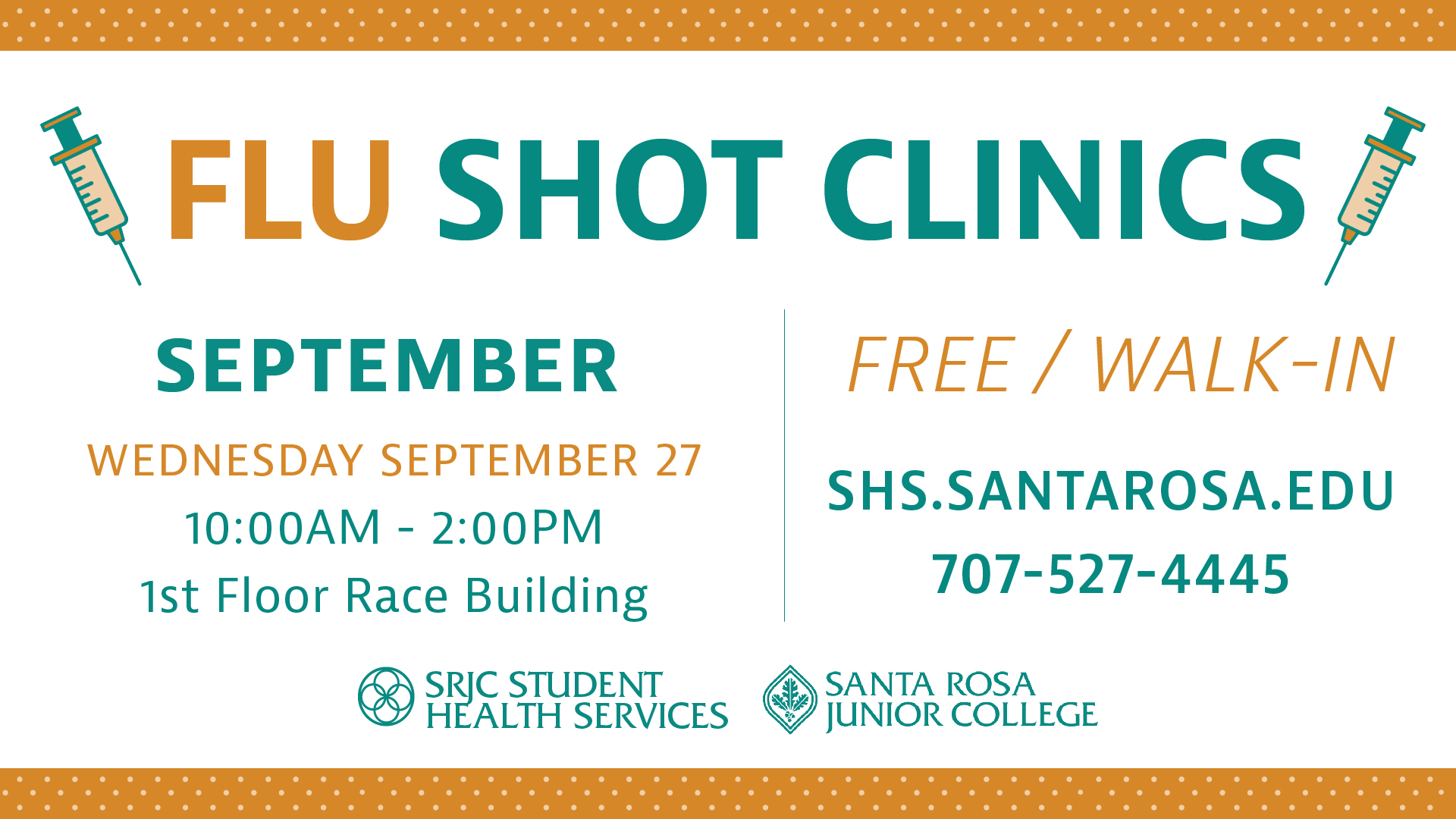 ---

---
Connection is Prevention - Sunday, September 10
Community event hosted by Sonoma County Department of Health Services
Time: 10:00AM - 1:00PM
Location: Old Courthouse Square, Santa Rosa, CA
Come be a part of this enriching experience and discover how fostering connections can be the key to preventing mental health challenges. Together, lets thrive and create a stronger, more supportive community. For more information, contact: mhsa@sonoma-county.org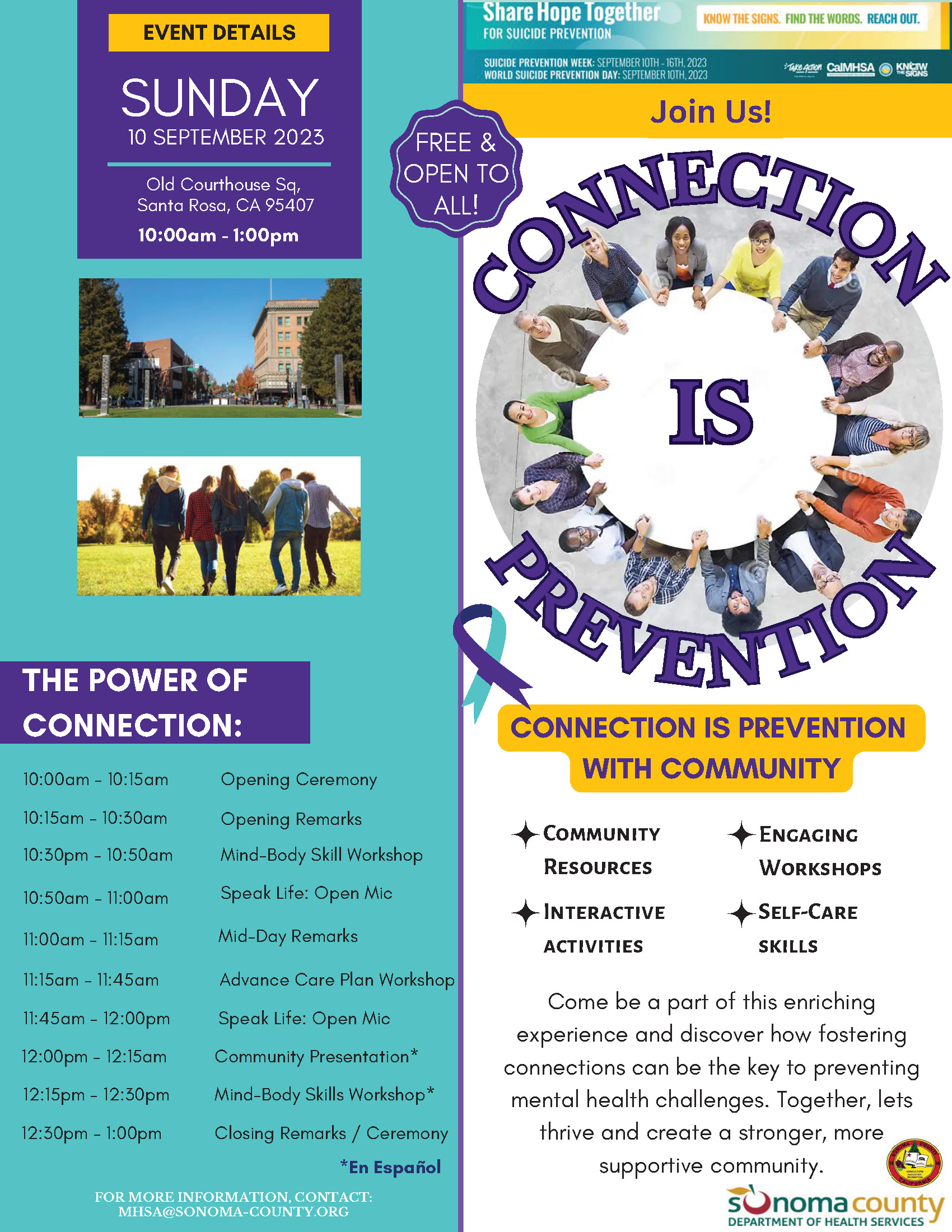 ---
Conexión es Prevención - Domingo 10 de Septiembre
Time: 10:00AM - 5:00PM
Location: Old Courthouse Square, Santa Rosa, CA
Ven y sé parte de esta enriquecedora experiencia y descubre cómo fomentar las conexiones puede ser la clave para prevenir problemas de salud mental. Juntos, prosperemos y creemos una comunidad más fuerte y solidaria. Para más información contacte: mhsa@sonoma-county.org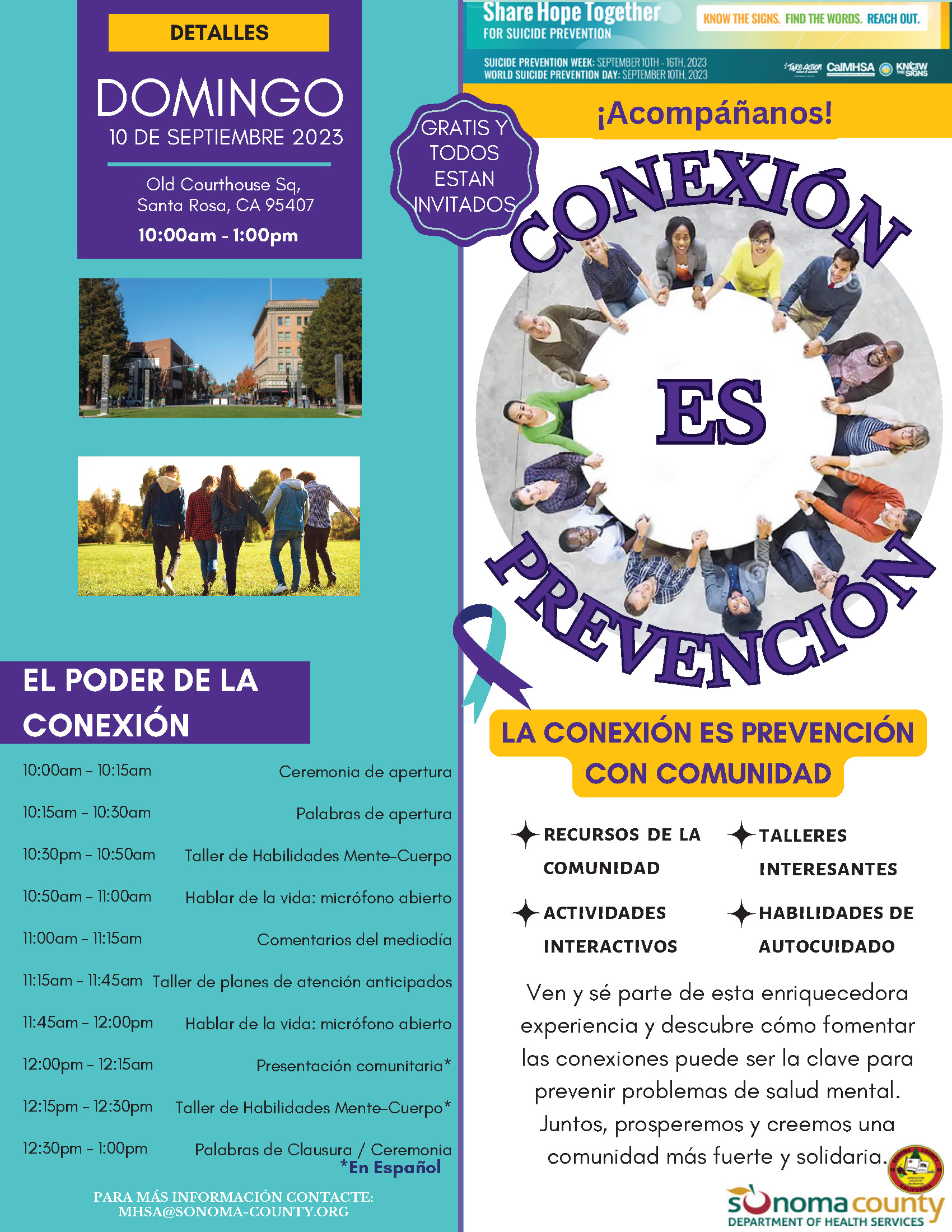 ---
QPR (Question, Persuade, Refer) Trainings - Become a Gatekeeper
Thursday, September 14th - Santa Rosa Campus
Time: 3:30PM - 5:00PM
Location: 4875 Bertolini Student Center, 3rd Floor, Santa Rosa Campus
Thursday, September 28th - Petaluma Campus
Time: 3:30PM - 5:00PM
Location: Welcome & Connect Center Conference Room, Mike Smith Hall Building 500, Room 102
QPR stands for Question, Persuade, and Refer — the 3 simple steps anyone can learn to help save a life from suicide.
Just as people trained in CPR and the Heimlich Maneuver help save thousands of lives each year, people trained in QPR learn how to recognize the warning signs of a suicide crisis and how to question, persuade, and refer someone to help. Each year thousands of Americans, like you, are saying "Yes" to saving the life of a friend, colleague, sibling, or neighbor.
At the end of this training, you will be a QPR-trained Gatekeeper who:
Can recognize the warning signs of suicide
Knows how to offer hope
Knows how to get help and save a life
This training is presented by QPR Gatekeeper Trainer Jeane Erlenborn, MPH, Health Promotion Specialist at SRJC Student Health Services. For more information, contact Jeane: jerlenborn@santarosa.edu or707-521-6930
---
 The "S" Word Screening - Tuesday, September 26th
Time: 3:30PM - 5:30PM
Location: Student Activity Center (Bertolini Student Services Building,1st Floor, 4608)
Join us in raising awareness for Suicide Prevention Month. Watch "The 'S' Word," a powerful documentary by Lisa Klein following a survivor's quest to share stories of courage and resilience. Stay for a panel discussion with students and mental health professionals, and enjoy refreshments. Let's make a difference together.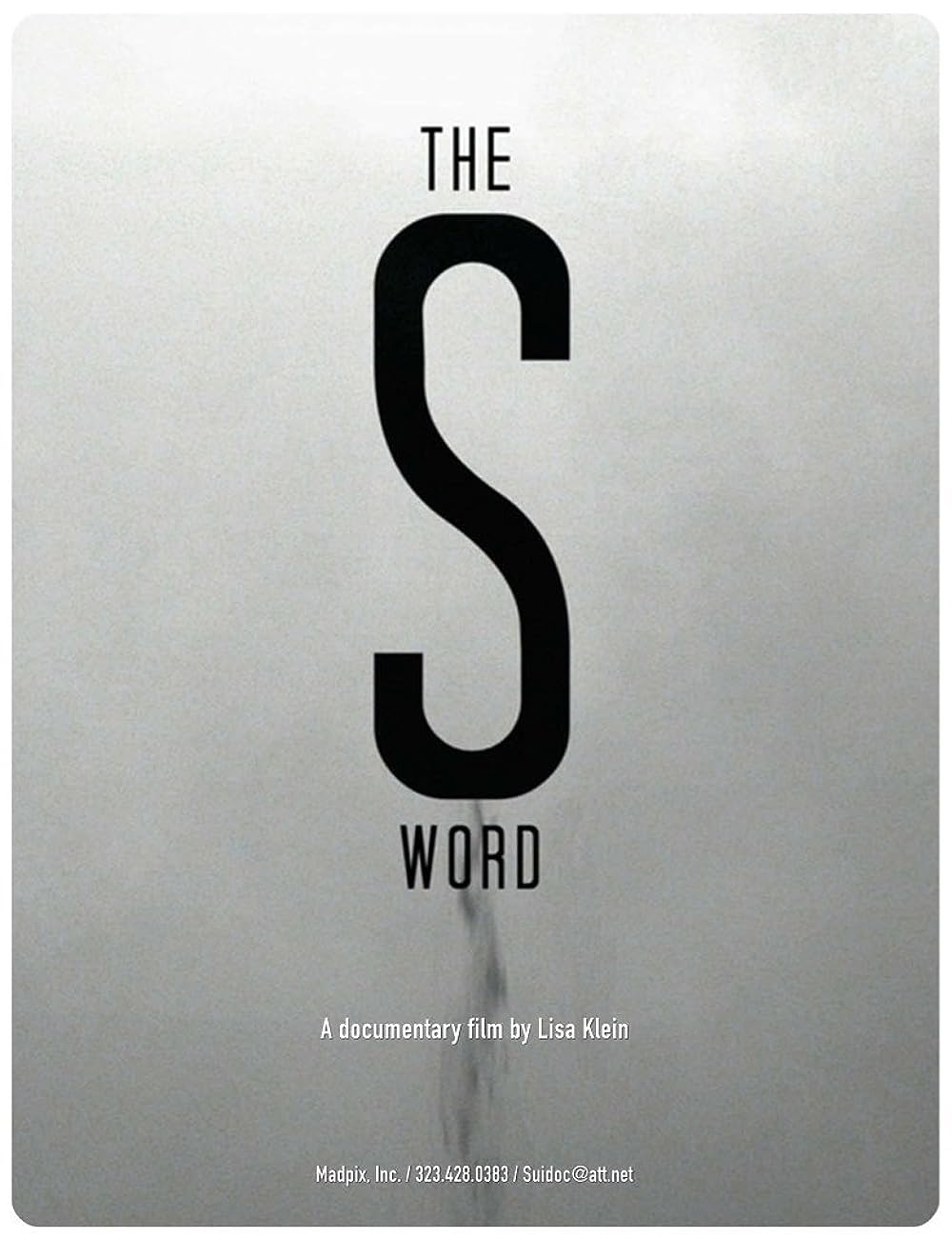 ---
---
August 2023 Events
---
Wednesday, August 16 - SRJC Welcome Day 2023
Time: 9:00AM - 4:00PM
Location: Santa Rosa & Petaluma Campuses
SRJC Welcomes new and returning students to campus. Check out the schedule of evens & RSVP - see you there! https://welcome.santarosa.edu/welcome-day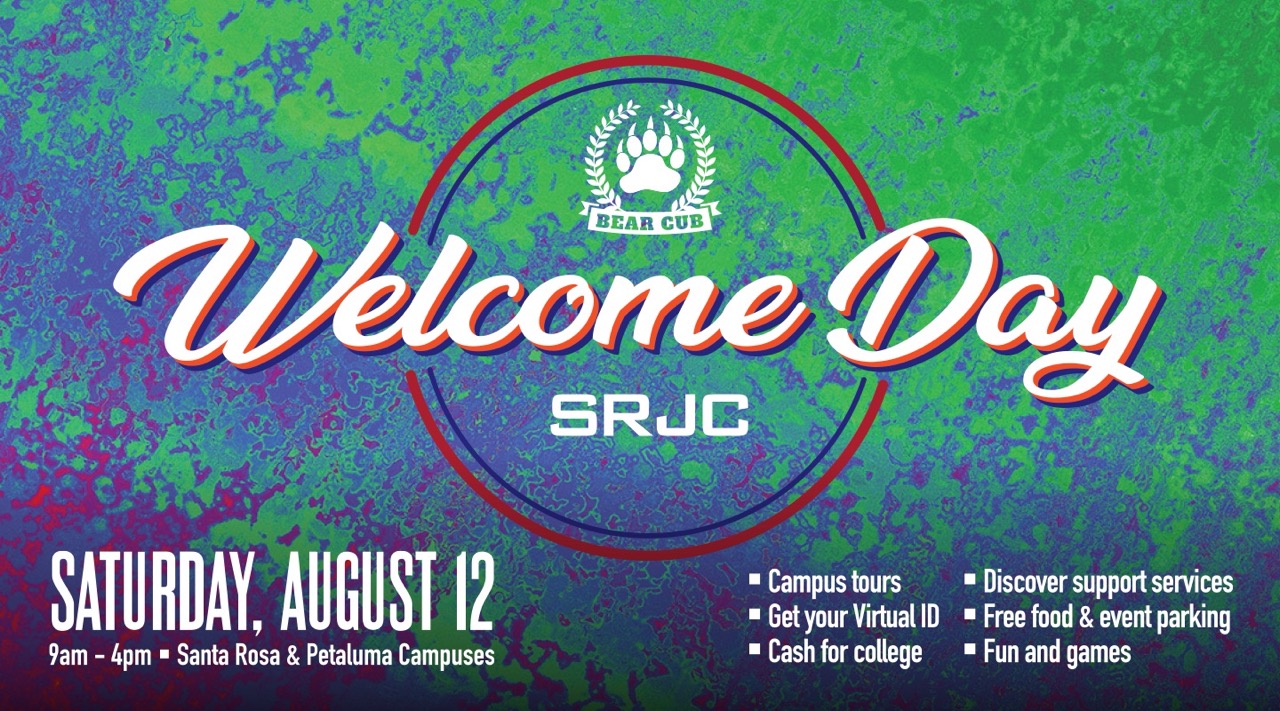 ---
Subscribe to the SRJC Student Health PEERS Newsletter
*We ask for students to volunteer to share their SRJC Student ID number in order to collect demographic information to analyze and better serve our audience in addition to advocating for more resources & services. All information is confidential.