Student Health Services Events & Workshops
---
SPS Groups
Spring 2019
---
Fidget to Focus
Mondays 12:00 PM - 1:00 PM
Facilitated by Elan Lepovic, MA & Andy Leslie, MA
This group is dedicated to anyone working through difficulties maintaining focus and managing their time, including those with ADD/ADHD.
Join us to learn new coping skills for the classroom and organizational skills for your life. Group activities will include mindfulness meditation, use of fidget toys, education on ADHD and time management, goal planning, and more!
Chill Out:
Tools to Reduce Your Stress
Thursdays, 12:00 PM - 1:00 PM
Facilitated by Rosemary Hart, MA & Grace Schwartz, MA
Come once or many times.
This group offers tools to help change your relationship with stress by mindfully taking control of your thoughts, emotions, and behaviors. Our goal is to help you "sit with" and tolerate stressful situations in a skillful and effective manner.
---
All groups are free with unlimited sessions for SRJC students. Groups start
when enough students have signed-up, unless noted above.
If you are interested in attending a group, call SPS at 524-1595 or stop by
Plover RM 559. All groups are supervised by Bert Epstein, Psy.D.
---
Students for Recovery
Student-led Peer Support Community
A safe space that encourages students to discover themselves and paths towards personal well-being through exploration of new coping strategies for recovery through the use of social connections, rotating format addressing addiction - related issues.
Wednesdays, Starting the first week of the Fall semester -  Bertolini Hall - Room 4643 - 1st Floor - CENTER FOR STUDENT LEADERSHIP 5:30 PM - 6:30 PM
Everyone is welcome to participate and share freely in a nonjudgemental space.
---
Enrollment Counselors on the Santa Rosa Campus Monday through Thursday
Student Health Services, Race Building call (707)527-4445 for an appointment.
Drop-Ins provided as available.
Applications ongoing all year long for CalFresh (Free Food!) and Medi-Cal.
In Petaluma, Call Building, on Wednesday Sept. 12, Oct. 10, Nov. 14, and Dec. 12 from 9:00 AM - 12:00 PM, or phone (707)778-3919 for an appointment.
---
Student Health 101
Read the Current Issue of SRJC's Student Health 101 Online Magazine
Student Health Services offers SRJC Students FREE access to an online magazine that promotes better health for college students. For the current SRJC issue, visit Student Health 101. This monthly, interactive online magazine covers topics such as nutrition and exercise, reducing stress, colds & flu.
New to college? The Orientation 2018 issue shares some important information about student services at SRJC and includes great articles about time management, what instructors want from you, and tips on how to fit in healthy eating and workouts while being a busy college student.
Download our app to get updates about campus health and wellness: 
---
Learn to Relax
See times & Locations Below
Mindfulness reduces and alleviates stress through improving emotion regulation, leading to a better mood and better ability to handle stress. SRJC students can now benefit from joining mindfulness groups on the Santa Rosa and Petaluma campuses!
The Santa Rosa Mindful Meet-ups will be held every Monday at 2:00-4:00 PM in the Bertolini Associate's Lounge (across from the Bear's Den). At our meetings, we will explore practices like meditation, breathing, and stretching to refocus, reduce stress, and build community. 
In Petaluma, join us every Wednesday at 12:30 PM, through the Fall, in the Intercultural Center (Jacobs Hall, 116), to explore ways to reduce stress and build community!
---
FREE FOOD ON CAMPUS!
Distribution Weekly in Santa Rosa and Petaluma
See the Student Resources web page for days and times, or use the convenient flier below.
Healthy eating contributes to wellness and success in school. Student Health Services partners with the Redwood Empire food bank to distribute fruit and vegetables.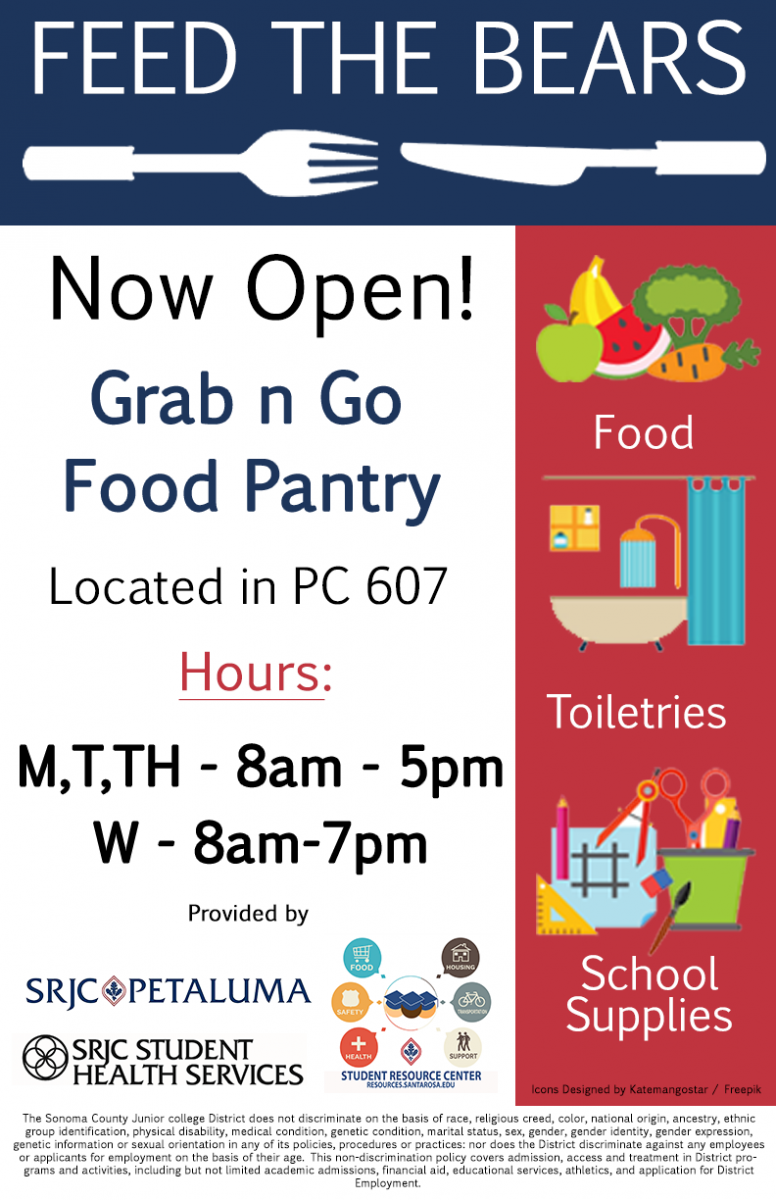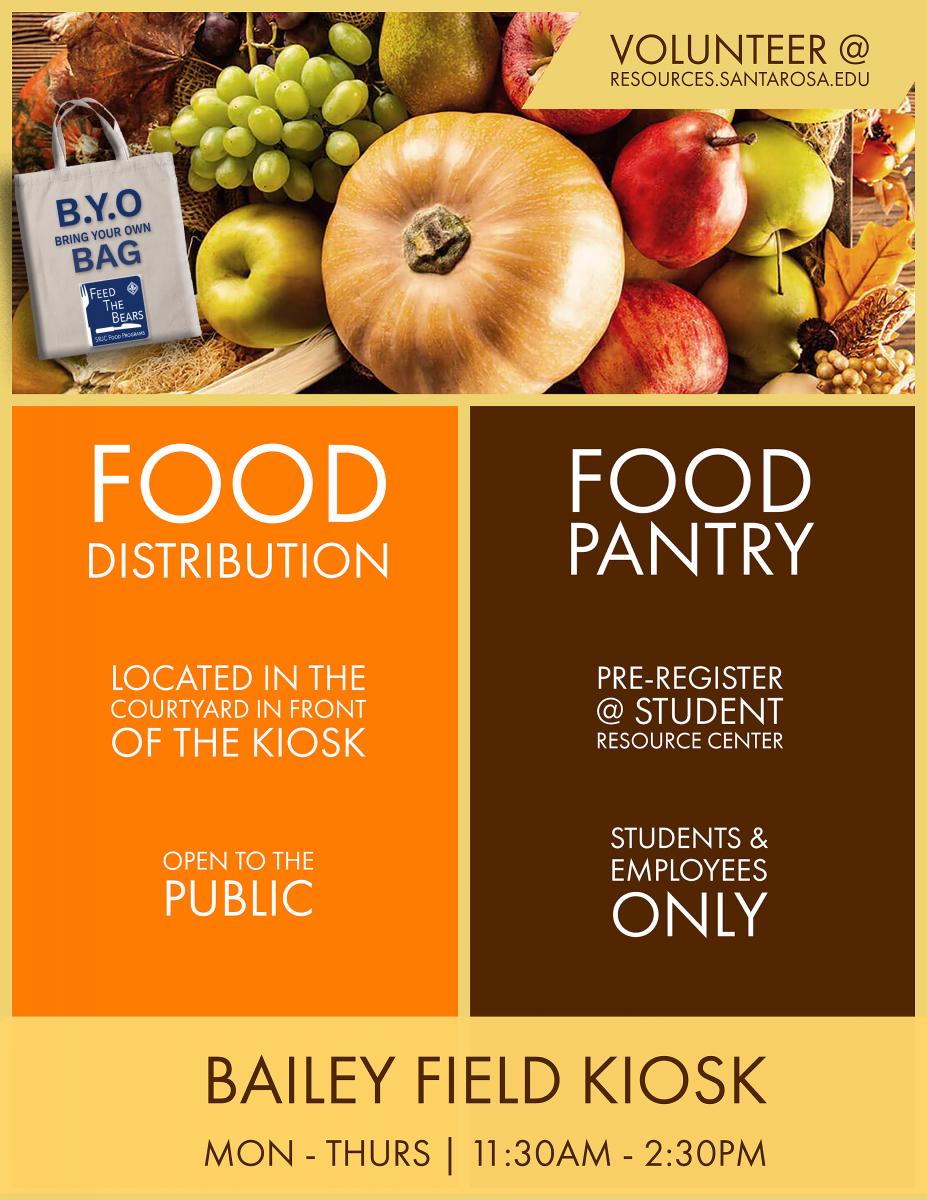 ---